Blood Donation Camp at Vikhroli Station
Tree Plantation at Ambhan Village
Annapoorna Day Celebrations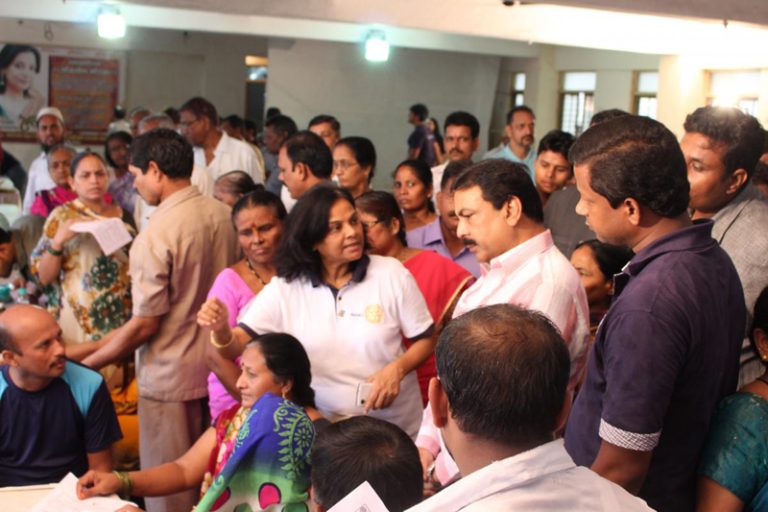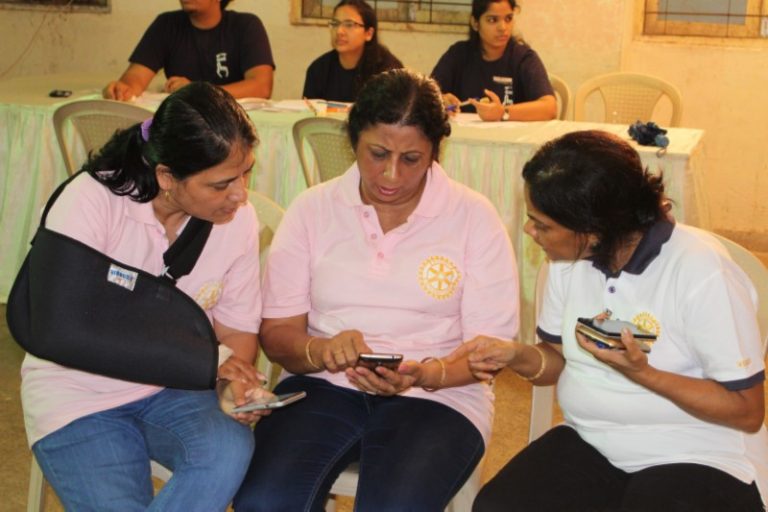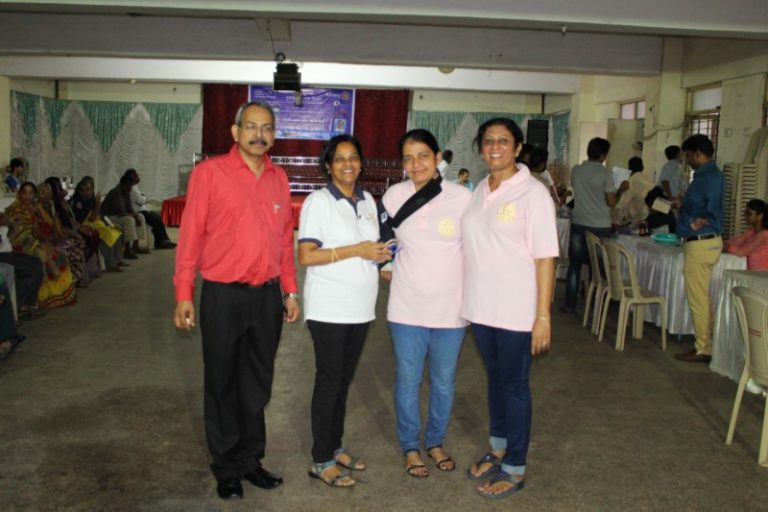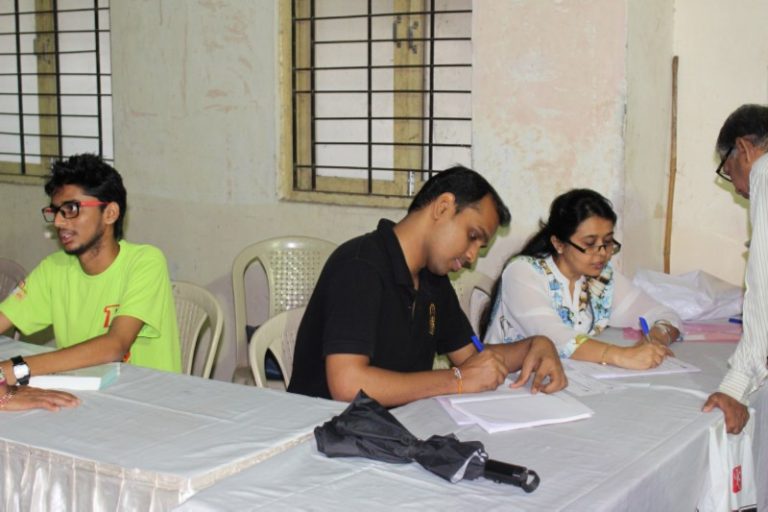 1st July'16:  We organised a blood Donation Camp at Powai with our Corporate partner Petrofac. In all more than 150 Employees participated and we collected 130 bottles of Blood.
8th July:  We organised one more blood donation camp where we had around 50 donors and collected another 30 units of blood.
25th Sept:  India is set to become the Numero Uno country in the world to have the highest number of Diabetic patients. Considering the seriousness of the ailment this is the thrust area for the Pratham year. "Prevention is better than cure" is the maxim followed by our District 3141 and a massive awareness campaign along with the check up was conducted by Rotary clubs all over Mumbai in the slums of Mumbai and many public places like general hospitals and railway stations. Our club conducted this in Sangharsh Nagar where 600 participants were checked and 96 tested positive. They underwent an investigation to check whether there were any further complications.
Paediatric Heart surgery: Five children underwent heart surgeries sponsored by our club. Further to the initial commitment we have sponsored eight more surgeries thanks to our benefactor member Rt. Hanuman Tripathi.
Kadav Hospital: A rural primary health care centre at Kadav (Karjat dist) urgently needed basic facilities for the villagers. They cater to around 30,000 villagers and on an average have atleast two deliveries being conducted and some minor operations too. This had been completed by joining hands with Cole – Parmer our CSR Partner.
Sion Hospital: We have joined hands with Corporate Giant Thyssen Krupp and planned to donate an Anaesthesia Work station to Lokmanya Tilak hospital, Sion which is the centre for treating accident victims at the Trauma Care Centre. This should be completed by April'17
We have also donated to the Thane Mental hospital patients to teach drawing and colouring to the inmates. Similarly, We have undertaken Colour Therapy to the Cancer patients at Tata Memorial hospital too.
Blood Donation Camp at Vikhroli Station
Blood Donation Camp at Vikhroli Station

Rotary Club of Bombay Powai team organized a Blood Donation camp on Saturday, 15th July, 2017 at Vikroli station platform no 1, to generate awareness of donating blood and collection from passing-by passengers. Commuters were amused with the efforts and over 100 people came to the Rotary stall. Even Rotarians and Rotractors (the students arms of Rotary) donated blood on this occasion.
A team of Rotary Powai led by President Rtn Ameeta Vohra, Club Secretary Rtn Leja Hattangdi, Project Director Rtn Bharti Shenvi and senior Rotarians were on blood donation drive from 8am to 2pm at Vikroli railway station. Rotaractors of NITIE sent a team to support the camp. The initiative was partnered by Sir JJ Mahanagar Raktpedhi, who supplied the infrastructure of blood collection like mobile beds, doctors for pre-donation check-ups and nurses. The interesting experience this time was that lot of commuters stopped to ask FAQs on blood donation that the team answered helping public awareness to grow on this important service to humanity.
District officials of Rotary Distt 3141 District Secretary Rtn Deepak Jianandani and Asst Governor Rtn Sunil Warrier also attended this camp in solidarity to the service. Blood donation is an important medical service that Rotary is committed to where 100s of Rotary clubs nationwide undertake blood donation drives thru the year to support blood banks helping to save precious human lives.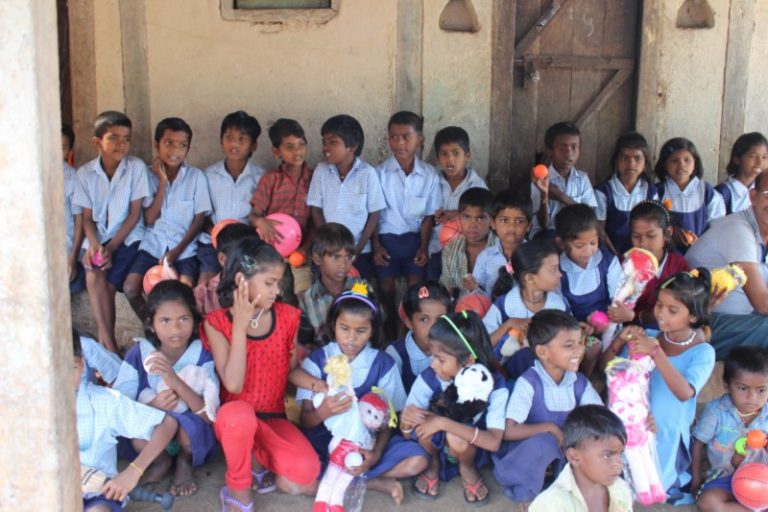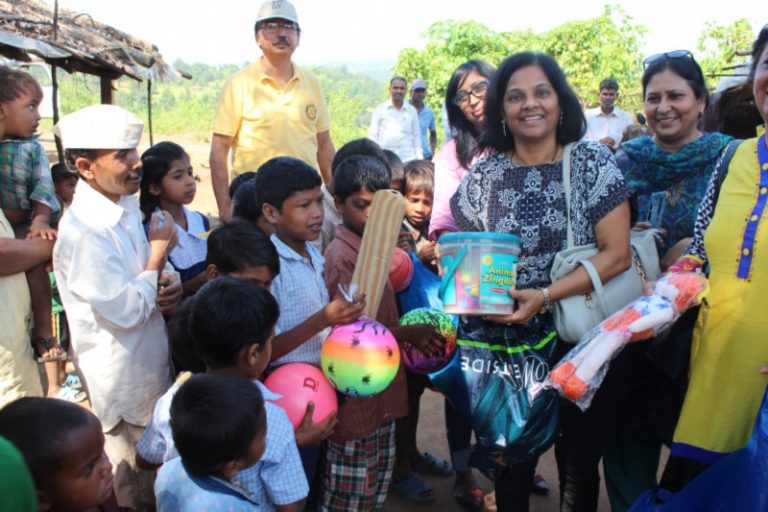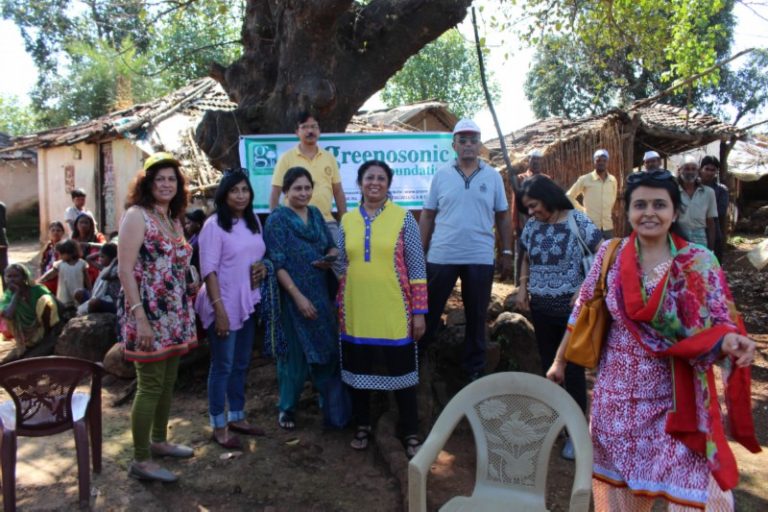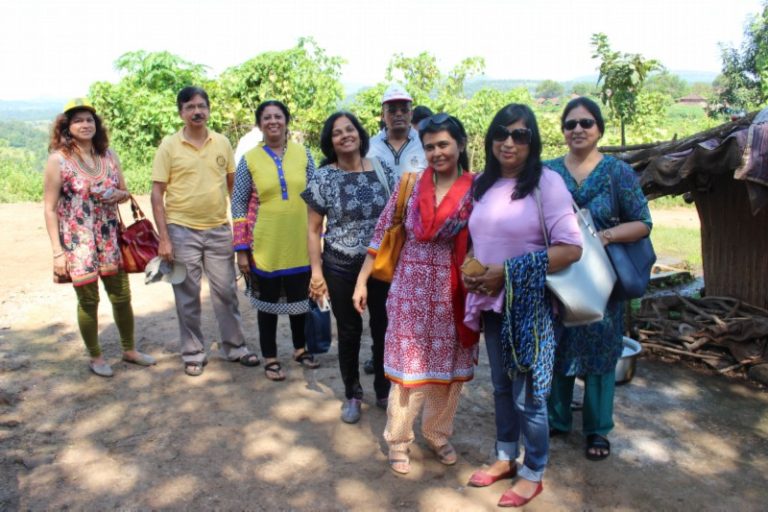 Two years ago Annapoorna Day was started by Rotary the bottom line being to eradicate hunger. The compassion and generosity of our members is so obvious that two years later Annapoorna Day has reached a different level altogether. Distributing food and sharing the joys of giving tasty food to children in Schools & Orphanages in Mumbai right up to distributing grains to the malnourished villagers in Mokhada Village, tribal children at Kalyan Vanvasi Ashram in Panvel, Old age home in Badlapur and recently distributing nutritious food to children who are undergoing Chemo our club has gone to the length & breadth of Mumbai and beyond to do service.
Our club donated 2 CCTV monitors to God's MBA foundation at their Airoli Centre thanks to the generosity of our Rtn. Hanuman Tripathi.
Building of public toilet facility for the slum dwellers of Bamandayapada along with Dist. 3141 :
Presently we have all permissions and construction of the facility will start soon
Tree Plantation at Ambhan Village
Tree Plantation at Ambhan Village

Rotary Club of Bombay Powai team (Founded in 1991) successfully organized an Environment related project – A tree plantation project at Ambhan village in Manor on Sunday, 20th August, 2017. 100 mango saplings were planted in the tribal ashramshala with an aim that these be nurtured and grown by the villagers to become huge trees bearing fruits for them. This was our way of joining hands in supporting nature by helping to add greenery around.
RCBP team comprising of President Rtn. Ameeta Vohra, led this project supported by Rotarians and Rotary spouses, Ruchi, Leja, Satish, Pradip, Jyoti, Bharti and Rajnish who actively participated in the project. These saplings were donated by the RCBP members.

Rotary Club of Bombay Powai conducted Eco-Friendly Ganapati workshops on August 22nd & 23rd 2017 for young children of its two adopted municipal schools. The Rotary arm has been constantly working for many years to improve the living standards and self-esteem of the kids. Rotary Powai team led by President, Rtn. Ameeta Vohra, Team Lead, Rtn. Sonali Thakrar, Past President, Rtn. Dipa Dutt and Sr Rotarians Chandrika Gajjar, Manju Nangia & Kamalnayani Pathak spent two half days in Durga Devi Municipal School and Sangharsh Nagar Municipal School, helping about 400 students to understand value of eco-friendly Ganapati festival, cajoling them to persuade their families to bring home only clay idols of the Lord Ganapati and taught them how to quickly make beautiful clay idols.
The real joy was to see practiced students who learnt this art from the Rotary team over the years, teaching making of clay Ganapati to their new teachers. This entire learning process is the real education conducted with festivity of decorations, colours, snacks for the school and celebration all the way, sponsored by Rotary Club of Bombay Powai.
Rtn. Sonali Thakrar and President, Rtn. Ameeta Vohra had started Eco-Ganapati workshops for municipal school students many years back in Rotary Powai, and year after year have visited these schools to painstakingly inculcate adoption of eco-friendly Ganesha festival, there by instilling the lesson in environment protection to the most important stakeholders of a family, the budding youngsters and their school eco-system.
Annapoorna Day Celebrations
Annapoorna Day Celebrations

Rotary Club of Bombay Powai team in association with Robin Hood army distributed 650 boxes of food to the slum children at Sangarsh Nagar Community hall. Balance 150 boxes of food were distributed amongst the children of Chandivali slum area. There was a lot of excitement in the air and the children chattered away as the food boxes were being distributed. It was a fulfilling experience to see the happy faces of the kids because of the tasty food that they could relish after a long time.
This project was organized under the leadership of Club President, Rtn. Ameeta Vohra along with her Rotarians & Ann's team comprising of Abha, Satish, Leja, Kamlesh, Dilip, Dipa and Jyoti who participated in this program whole heartedly making it a huge success. Efforts put in by Rtn. Abha was highly appreciated for continuously coordinating this event with Robin hood army. This event was only possible owing to the generosity of all the donors from members of the Rotary Club of Bombay Powai.

Rotary Club of Bombay Powai team celebrated our Nation's 71st Independence Day on 15th August, 2017, true to their motto of Community Service. Club President, Rtn. Ameeta Vohra, Immediate Past President, Rtn. Kusuma Rao and several Project Directors and Senior Rotarians & Anns of Powai were at Durgadevi Municipal School, Chandivali at 7.45 am amidst school children and teachers decked up in the national colours. The air was filled with enthusiasm of young children when President, Ameeta and the Principal hoisted the National Flag at 8.00 am and the entire school buzzed with everyone singing the National Anthem and other Patriotic songs.
The children delivered heart touching speeches that demonstrated their enthusiasm and the preparation which the teachers must have labored behind. It was nice to find that the children delivered speeches in Marathi, Hindi and English language and the teachers spoke about National Integration and various issues of importance that children can take forward on the momentous day.
The RCBP Team then proceeded to visit Senior Citizens group at Raheja Vihar. The event was organized at Raheja Vihar's club. The function started with flag hoisting by Club President, Rtn. Ameeta Vohra and a senior citizen. The function then took further shape with the Rotary team felicitating Senior Citizens on the grand occasion of the Independence Day. Senior Citizens presented their speeches on the occasion covering the sacrifices of our great leaders & soldiers in bringing independence to the country. President RCBP covered the areas of Community Services that RCBP delivers in the region and invited Senior Citizens to take active participation in some of these programs and was felicitated by them. He also enumerated the pride RCBP has in associating with the Senior Citizens Club