Family Fiesta – 9 November 2019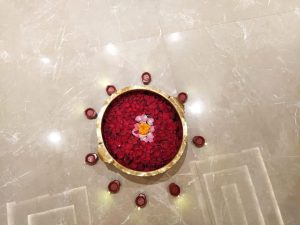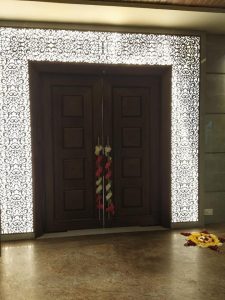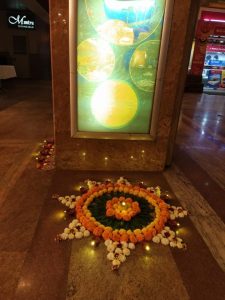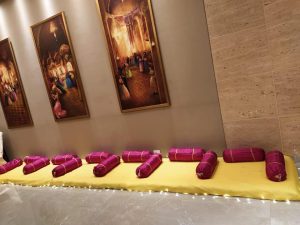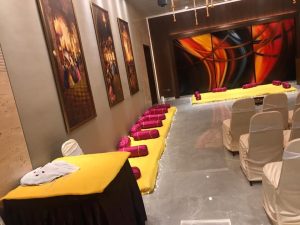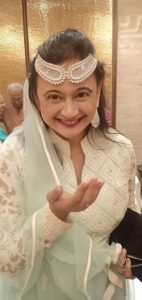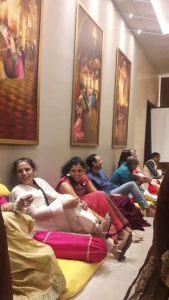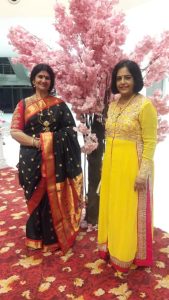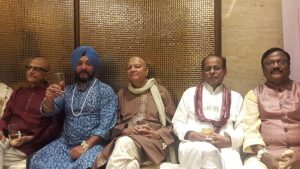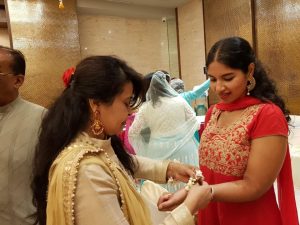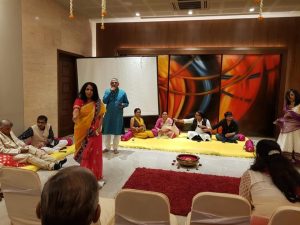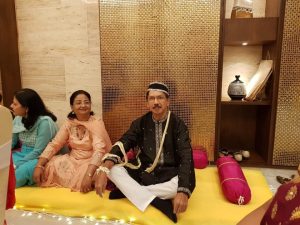 Our Family Fiesta on November 9, 2019 at Mantra Hotel, Powai was an event to remember. I had just landed in the morning at 2.30 from US. When I went to Mantra it looked like I entered a dream world. The ambience with beautiful cushions, chairs, flowers, paan, lights, floating flowers and rangoli came due to the planning and follow up of Farida, Tejal, Bharati.
All this was set to perfection by  the team of Farida Thakur (I call her Pari, she makes my wishes come true), Sonali Thakrar( I feel her heart and hands both are made of gold), Aabhha Sharma ( knows where her heart is and when she takes up something puts her heart and soul there), Kiran Talreja( silent staunch support from the day I joined Rotary), Bharati Shenvi ( Quarter Leader who actually leads with her thoughts but sincerely believes she is a follower) and Tejal Sheth ( I call her Tej – so quick to grasp and act – like cotton and fire we act)
The Mushaira evening was like a supple mellowed mango – simply slipped into the mouth. No one felt the passage of time. An amazing amalgamation of  flowers, aroma, shayari, music, laughter, glitter and great food.
Professional shayars who graced the occasion were RJ Swati, Dr Pramila Sharma, Shivji Pandey Shivam, and Rajesh Manthan. Swati's coherent introductions with references to historical incidents to every shayari made the compositions very engaging. Shivji Pandey Shivam 's nationalistic fervour and reality touch elevated discourse to a different level. Dr Pramila Sharma's hilarious shayaris and swift repartees, and Rajesh Manthan's shayaris that stimulate our thoughts and stir our souls made the experience very eclectic.
At the outset,  Ashok and Tanu Nandy helped us fix the venue and menu. As always they took personal interest, visited the place and got us the best deal, decided the sumptuous spread that everyone went gaga about at the end of the day. Finally food feasts. Tanu also superbly managed the reception and registrations.
Atul Pathak gave a beautiful introduction about the history of mushaira, famous shayars and also the invites. Our own RCBPians were bubbling with imagination and energy.
Every one in finery added to the glamour and glitter. Taking that meticulous effort to dress up in accordance with the theme, every person in the room made it so special. Gratitude from deep within for that love.
Veterans like Ashok Singh who came rushing after leading MUNA from BKC for the event presented hand-in-hand with attemptees like me. I presented a story my mom used to say as a shayari. Dedicate this to you mom:
Bada sa jungle
Chal raha hai ek manushya
Phisalte girtha hai ek kue main
Phat se pakhad leta hai
Ek paid ki daali ko
Neeche dekha to paani hi paani
Tairana nahi aatha
Daaye tharaf dekha to
Dil darr se baith gaya
Ek saamp apne ghar se
Baahar andhar baahar andhar
kar raha hai
Baaye tharaf dekha to
ek darawana bhichoo
Duur se aa raha hai
Upar dekha to
daali toot rahi hai
Dheere dheere dheere se
Daali hil rahi hai jhor se
Aur lag raha hai ek
Madhumakhi ka chaatha pe
Madumakhiyaan ud rahe hain
Unki bibinaana se
rom rom kaampta hai
Itne mein ghirta hai
Beech beech mein ek do boondh
Meeti taaji shahad
Usko bhi chak leta hai manushya
Zindagi yahi hai
Zindagi yahi hai
Thanks Shyambabu Singh sir for making grammatical corrections in minutes. Amit Sheth, Sanjay Farida Thakur, Sapna Goel who sang like koel, Anupama Vaidya whose presentation is always perfection personified, Dr Sanjeev Bhatia
The shayari themes ranged from childhood to love to nationalism and transported us to a different world. Thanks to everyone who prepared and presented there.
We had our AG Shobha Iyer who accepted our invitation to inaugurate our RISE Awards Logo. Special thank you to her for that. She sang a lilting Number befitting the occasion too.??
HariPrakash Moothedath, Tejal Sheth, Dr Deepak Deshpande and Atul Pathak – you all take photos with so much love that we depend on you to capture every moment and if something is not captured, we can't believe it! And, my RCBPians – you all rush like school kids for the pics each and every time. I have seen groups where it becomes such a pain calling people to come and pose for a pic. By the time you get someone, another person in the group has disappeared ?. These enthusiastic moments with child-like innocence and energy in our club are so special for me.
Amit Sheth and Sanjay Thakur propped up the evening with invisible, silent but strong support.
A huge hip hip hurrey to RCBP!