'Rotary Club of Bombay Powai quizzes 17 schools 51 students' Knowledge Quest, Powaifest 2020 at Hiranandani International School on August 1,2019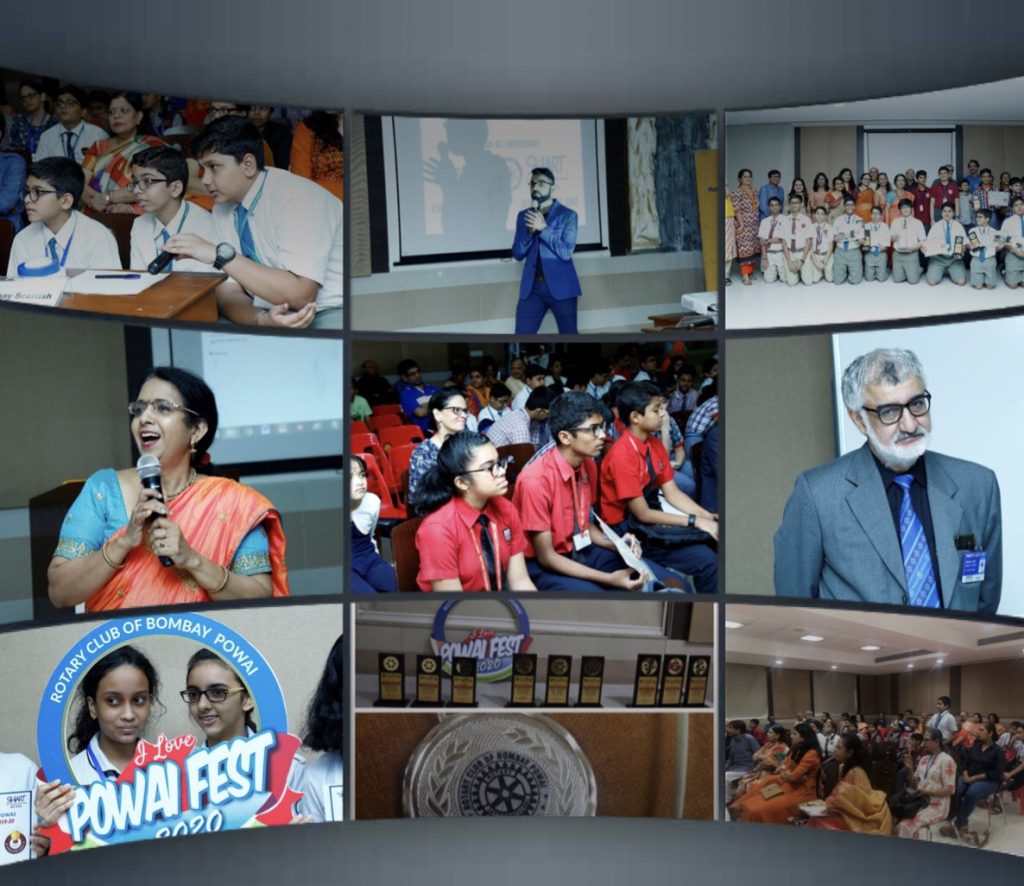 Little parrots, you've been studying science late into the night,You've been picking your brains to solve algebra sums right;You've been writing reports and analysis, doing projects,In the midst of literature, prosaic poetry of Betrolt Brecht;You've been struggling between break dance, karate and judo,No time to water plants, prune the leaves or play leisurely ludo.
When you all came for an Inter-school Quiz at the Hiranandani School,Deft, daunting Ajay Poonia's quiz made many of us feel like a fool;We pinched one another whenever we found we could answer one,Child indeed is the father of the man as you all dealt it with ease and fun; Seventeen batches, fifty-one students participated with great zest,Parents had come along, were like children bubbling with answers best.
Audience answers got shining silver Rotary four-way test medal,We had to struggle to keep scores with a speed like swift bike on pedal;Bombay Scottish earned coveted positions first and also second,Kendriya Vidyalaya came a close third as scores were reckoned;Chief Guest Ramon Abrol was introduced in an interesting manner,Ramon Abrol himself was stumped where from we got beyond the routine planner; Competent quiz master Ajay Poonia was introduced in a voice sonorous as bangle,RCBP-ians stand like a rock for one another to sort out any weary tangle; Audience gave beautiful feedback about the introduction on Rotary with a Krishna story, They also were very happy that the invocation soaked them in divine glory.
They also appreciated the welcome note explaining why knowledge is wealth, That we got gift sponsors Grassroutes to connect to villages, good for nation's health; We indeed had seniors to stay with the Chief Guest with courtesy utmost, We also to thank Principal Kalyani Patnaik who in absentia played perfect host; We also proposed a precise planned perfect vote of thanks, All this happens because many do silent work, unknown to the ranks.
Rotary Club of Bombay Powai is indeed one strong music band, Where everyone plays his part the best, not a missing strand; All those present cheered and took up roles as per demand, Rotary kids came in too curious, or simply respecting parents' stand; Marygold, daylily and chrysanthemum had bloomed in the hall, In chairs neatly lined up by Hiranandani Foundation school support staff et al.
Congratulations!
First Prize Winners:
Bombay Scottish ICSE
1. Pulak Benerjee
2. Pranav Arun
3. Samarpana Panda
Bombay Scottish – ICSE
Second Prize winners:
1) Ritvik Bhat
2) Siddharth Ravi
3) Sanidhya Chand
Third Prize Winners
KVIIT SSC
1) Aayush Mulane
2) Sudarshan
3) Nidhi Balli