ACADEMIC EXCELLENCE AWARDS
Rotary Club of Bombay Powai Organizes Academic Excellence Awards 2019 Function!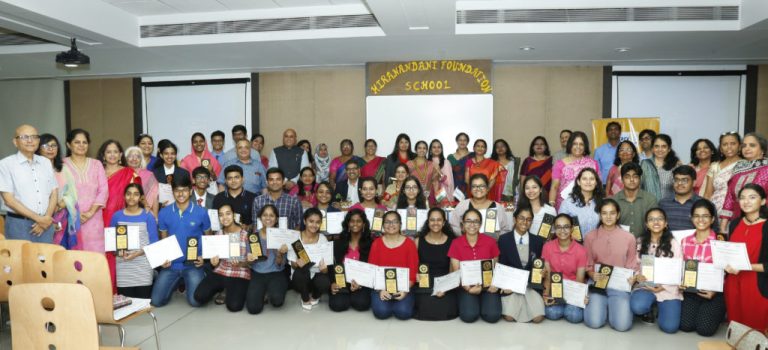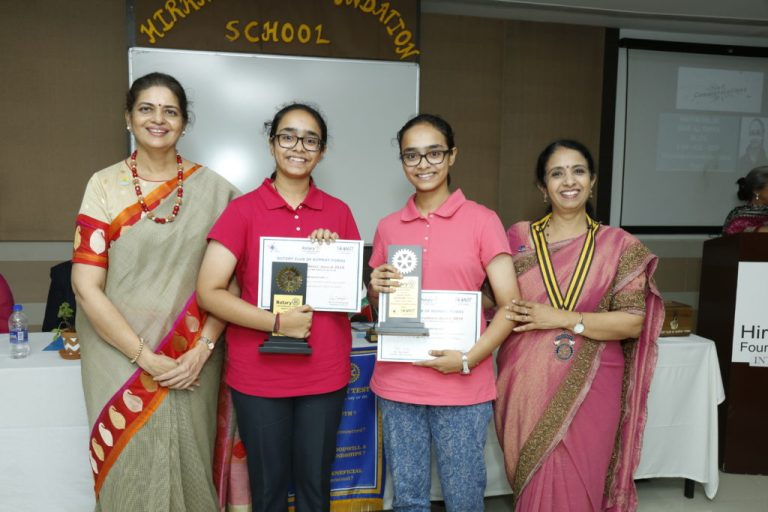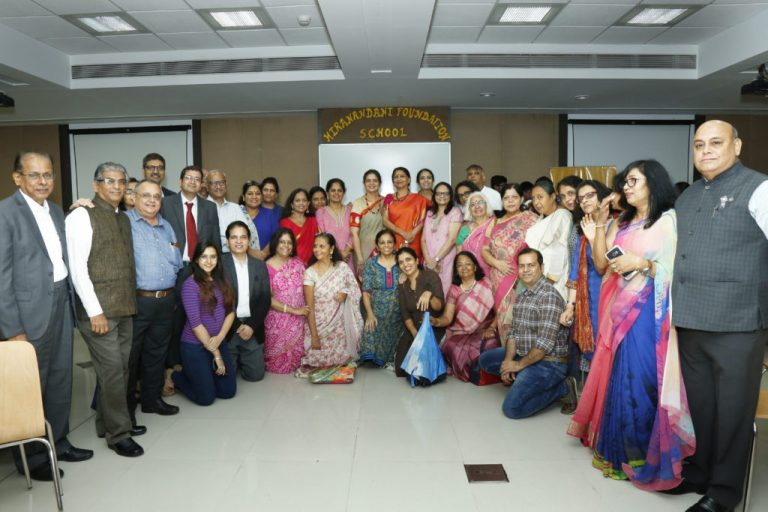 Hiranandani Gardens, Powai on July 8, 2019, was abuzz with excitement at around 3.30 pm. Braving the torrential rains groups of students, parents and teachers and many ladies in pink and gentlemen in grey were trouping in charming clothes to The Academic Excellence Awards Ceremony at Hiranandani Foundation's International School. The event was organized by Rotary Club of Bombay Powai. Come July, Powai-ites look forward to this event.
Teachers nominated as the best in the year 2019 and two toppers from tenth and twelfth standards from different boards received awards. 18 teachers, 20 toppers in 12th Standard and 35 toppers in X Standard received personalised trophies and certificates. Hiranandani Foundation School, Hiranandani Foundation's International School, RN Podar School, Kendriya Vidyalaya IIT and Bhandup, Bunt Sangha's SM Shetty High School and Junior College, SM Shetty International School, Powai English High School, Podar International School, Bombay Scottish High School, Pawar Public School, Gopal Sharma High School and International School participated in the event.
The Chief Guest for the event Chairperson of Innerwheel, Dr Devanghi Vakharia, in her moving address, shared live examples of circumstances of dilemma and duress students and parents face, from her rich experiences as a Counsellor and Psychologist. She exhorted everyone to remember that END means Effort Never Dies and NO means New Opportunity when they face challenges in future.
Special Guest Rotary District Vocational Counsellor Rtn Vinod Thakkar in his crisp and candid address shared moments in his personal life when expectations of academic achievements were source of stress and congratulated the students for breezing through the ring of fire and landing on success podium. He stressed the 'looking' good and 'doing' good are not as important as 'being' good.
Guest of Honour Principal Kalyani Patnaik spoke about the three Ps that one should pay attention to – Play, Passion and Purpose – to reach the Pinnacle in any aspect of life. She spoke about the importance of Emotional Intelligence and multiple intelligences that we need to become aware of in order to be a wholesome person.
The President of the club Rotarian Girijaa Deshhpande, in her welcome address clarified that Academic Excellence Awards is not a celebration of the numbers achieved but a celebration of the qualities of head and heart that enables a person to achieve that. The attitude of perseverance, focus, consistency, team work, faith in the direction of parents and teachers – these have made their success possible, and these are the cornerstones of a happy life.
The event started with the soulful rendering of Saraswathi Vandana by Rotary Spouses Sonali Thakrar and Kalpana Singh. Prior to the arrival of the Chief Guest, the audience got the golden opportunity of listening to the soulful sharing of several students, teachers and parents about their arduous journey through the crucial phase. Many hearts were uplifted, eyes turned moist and voices choked.
Rotarians Dr Dayasagar, Hanuman Tripathi, and Sanjay Shah gave interesting introductions to the Chief Guest, Special Guest and Guest of Honour respectively. Rotarians Pankaj Shah, Aabhha Sharma and Davina Bali announced the names of winners. Immediate Past President Hanuman Tripathi presented the Miracle Makers Citation to Principal Kalyani Patnaik for her reliable support to Rotary Club of Bombay Powai.
Rotarian Kalpana Jaishankar, put her heart and soul in playing the role of anchor to the hilt. President Elect Lata Vanamali proposed Vote of Thanks.
The 68 guests – parents and spouses who accompanied the awardees and the students profusely appreciated the professional conduct of the event. One month of consistent coordinated efforts of several Rotarians and members of their families made this event memorable for one and all.
The teachers who were nominated by their schools to receive awards for being beacon lights leading students to academic excellence were:
Schools of Hiranandani Foundation Group, Powai
Namrata Dutta Bera, Nirupama Bharadwaj and Ritesh Singh
Schools of Bunt Sangha's

 

S M Shetty Group, Powai

Zehra Shaikh, Meera Rawal
Schools of R N Podar Group, Powai
Rashmi Chaube, Pooja Nand Kumar Jagtap, Aditi Ganguly and Swekshana Mitra
Kendriya Vidyalaya IIT, Powai and Bhandup
Radha N, T R Sujata, Selvam Muthiah, and Sonika Sehrawat
Bombay Scottish School
Dinesh Bangera
Powai English School
Anagha Kudalkar
Pawar Public School
Naina Joseph
Schools of Gopal Sharma Group
Sadia Khan and Rekha Palnitkar
XII Standard Toppers who received awards were:
Schools of Hiranandani Foundation Group, Powai
Nidhi Munot, Isha Gandhi, Hozefa Ebrahim Lokhandwala, Dhyaan Devan Lilani, Kuhoo Tiwari, Tanvi Prabhakar, Siddhant Moily
Schools of Bunt Sangha's

 

S M Shetty Group, Powai

Suraj M Yadav, Punit D Jain, Saini Kaur, Pooja Nair, Vikram Dodia, Simran Bhatia
Schools of R N Podar Group, Powai
Urvana Dewan, Nupur Jain, Aniket Das
Kendriya Vidyalaya IIT, Powai and Bhandup
Anupriya Dasgupta, Ayush Singh, S Hanna, Apporva Singh, Misme Bose
X Standard Toppers who received awards were:
Schools of Hiranandani Foundation Group, Powai
Rishabh Jayesh Khandelwal, Parth Jayesh Kini, Shravya Suresh, Maithri Suresh, Aryan Vardan, Savera Mathur
Schools of Bunt Sangha's

 

S M Shetty Group, Powai

Ishika Paras Kothari, Viha Santosh, Trimbakkar, Diya Naveen Rai, Ruchit Mehta, Vanshika Nijhawan
Schools of R N Podar Group, Powai
Megha Girishankar, Krittika Mittal, Bhakti Doshi, Tejas Kamat, Shreya Parakh, Manasi Rai
Kendriya Vidyalaya IIT, Powai and Bhandup
Shubra Singh, Gowri Nandana, Pranath Narsupalli, Soutreyi Manadal, Pinaki Das
Bombay Scottish School
Shreya Ompreeti, Ayushi Mahajan
Powai English School
Chinkey Rajpurohit, Chetali Vilas Suhani,
Pawar Public School
Riya Jaison. Soham Khapre, Maliha Jabin Khan, Shubham Kulvekar,
Schools of Gopal Sharma Group
Rachit Bhojani, Vaishnavi Kamat, Yamaan Nandolia, Daisy Mavani