President, Rtn. Girija Deshpande's Installation along with her BoD – on Thursday, June 6, 2019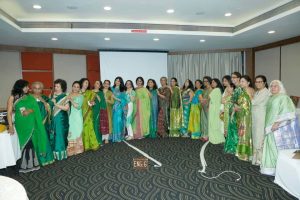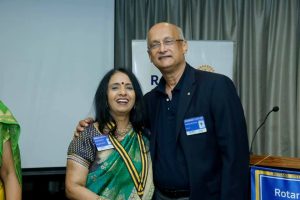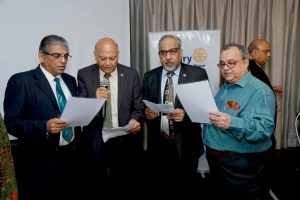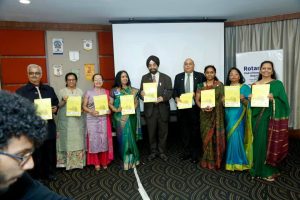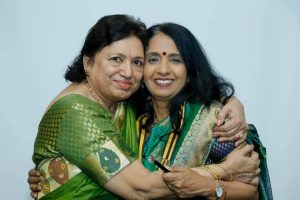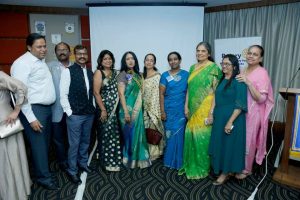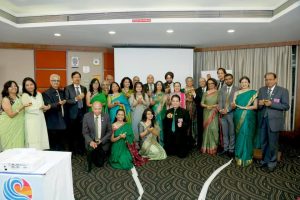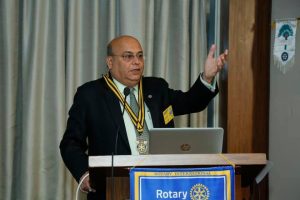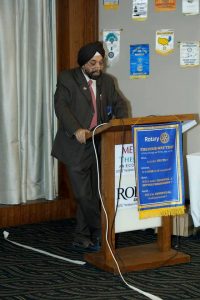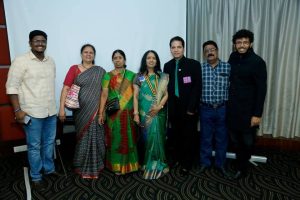 SMART year Installation on June 6, 2019, was a memorable event and augured a great beginning… I took up Presidentship of Rotary Club of Bombay Powai, the first club that started in Powai. 28 Presidents before me have built this brick by brick. I know a great responsibility rests on my shoulders. But I feel light at heart because I have a strong, loving, caring, wise, experienced, prudent team with me.
From the word 'go' it was splendid  as Immediate Past President Hanuman Tripathi agreed to have this in the Miracle Year, when the date came to me from SMART DG.
Sunita Sainani stood behind me like a rock. Duty list came from her. Banquet selection was again her baby. Whatever info we wanted, came from her.
The spectacular ambience was the contribution of our traditional approach with flowers and tea candles and the novel idea of personalised decoration with photos. Farida Thakur and Tejal Sheth put their heart and soul in it. They were so excited about the idea and put a full day of labour collecting photographs, printing them. Every guest who came including DG Shashi Sharma and DG Harjit Singh and CoPresidents said it was a fantastic and unusual idea.
Our Kiran Talreja, Latha Vanamali, Davina Manjit Singh, Sonali Thakrar, Savita Govilkar, Rekha Sakhuja, Bharati Shenvi, Anju Ahluwalia, Priya Mohan, Aabhha Sharma were at work in the hall from 4 pm onwards.
Sanjay Thakur and Amit Sheth have been such staunch supporters that they are physically there with the spirit that no effort is big or small. Kamalini Pathak and Atul Pathak got all printouts including the agenda you saw on the table.
Divyesh Thakrar, Amit Sheth and Dhiraj Deshpande were looking at the IT management. Divyesh Thakrar and Harin Sheth also took care of Seating arrangements.
At the reception counter Bharati Shenvi, Vaishali Sheth, Veneeta Narula, Kiran Talreja, Davina Manjit Singh, and Rekha Sakhuja did a fantastic job recording and collating details.
Rekha Sakhuja had prepared the digital banner for Installation. SMART DG Harjit and my CoPresidents were all appreciative of the idea.
Susan Tripathi had planned the national anthem, and managed the rehearsal of invocation – a beautiful rendition by Vanmali, Kishore Degwekar, Atul Pathak, Pankaj Shah, Sunita Sainani, Kalpana Singh, Susan Tripathi, Sonali Thakrar and Priya Mohan. Thank you all for enthusiastically hosting rehearsals at your homes and rehearsing for this and presenting a melodious chorus.
Diya was decorated very tastefully and Tejal Sheth and Dipanwita Dutt took care that lighting the lamp ceremony went on smoothly.
Hanuman Tripathi, during his presentation of the year that went by, was all heart. Besides the classic presentation of all projects, his message for me was inspiring – and I think going by the song of Farhan Akthar that he quoted – I am alive and kicking- ?, and the thoughts for himself – about unfinished jobs and yet to complete mission moved me to tears. I guess in every phase of life all of us will have that.
My intro video was prepared by Dhiraj. Everyone loved his narration and the way he unfolded my story and the old black and white pics ?
My presentation was appreciated by many for the opening, clarity of approach and the high targets. I am grateful to Dr Dayasagar, Kusuma Rao, Leja Hattiangadi and Vivek Govilkar for whetting my thought process, and the opportunity at the Jt. BoD to present it. I could have a dry run! And Adarsh Sakhuja's constructive questions, Satish Hattiangadi's thoughtful suggestions and Kishore Degwekar's enthusiasm for the projects, especially for RIPE Awards, when I had made the presentation at the Jt BoD, boosted my morale. You all lifted me up!
Installation rituals were facilitated seamlessly by Jyoti Shiralee and Sonali Thakrar
Anupama Vaidya's presentation of BoD was a class act. Pithy, precise, and powerfully delivered. She had to rush to Nagpur to be with her sister who lost her husband. Yet, this presence of mind! Our club has got powerful leaders!
The BoD with diyas was a beautiful concept that many loved!
Kishore Degwekar & Hanuman Tripathi received Major Donor Pins, Ashok Singh and Hanuman Tripathi received for 2nd Level Paul Harris Fellow, and Tejal Sheth and Kamlini Pathak recognized for their first PHF level.
Sushant Pati joined us as a member and Sanjay Thakur and Amit Sheth were also felicitated for 'upgrade' from spouse to member ?
Commitment certificates for 20% membership increase and for 20K USD TRF collections were given to me ??
The Installation Issue of Powai Tarang, our quarterly inhouse club magazine was released. Harin Sheth, who enthusiastically took up Bulletin Editor post, was a great support. VS does not merely stand for Vaishali Sheth, it stands for Vibrant n Sweet too. She gave dedicated staff for our work besides her precious time too.
Deepak's research on the AG added value to the intro of AG Shobha Iyer. SMART AG Shobha Iyer was simple and straightforward and gave very good insights for a successful innings.
SMART DG Harjit Singh Talwar's address got rapt attention. In his inimitable style he combined poetry shaayari that were superbly aligned to the focus areas of the District.  He advised the club to do all CSR projects in collaboration with the District. This will help us hit two fruits with one stone. The District will contribute funds for the projects from District Fund while the club gets the credit and we can offer more value to the beneficiaries or increase the quantum of beneficiaries.
As luck would have it, in response to my three months follow-up, yesterday morning I had received this great information from CSR Head of Borosil, one of my clients, that they would like to collaborate with us on a 50 lakhs horticulture project and will soon send us a report. This I shared as response to DG Harjit's address. Special thanks to SMART District team of Shobha Iyer, Ramon Abrol, Deepak Jiandani, and Vikram Sona for their appreciation.
From the District we had 22 attendees. For the first time we had two PDGs – Jayant Kulkarni, and Gopal Mandhania, present DG Shashi Sharma and the incoming DG Harjit Singh Talwar attending an installation at our club. PDGs Dr Bal Inamdar, Raju Subramaniam (at Hamburg Convention) and Vijay Jalan ( at DISCON of Dist 3250, Bodh Gaya) would also have attended but for their engagements and have given their blessings and best augurings for the club. This is only because our club has carved a niche for itself in the District.
Miracle DG Shashikumar Sharma was kind enough to join us after attending an Official Club Visit.
There were in all 108 attendees – 65 RCBPians ???, 22 Dignitaries from District ???and friends…
Pankaj Shah and Ashok Nandy who were at a wedding with Nita and Tanu, still sneaked out to come over for a hug. ????
SMART Secretary Dr Kamalini presented Secretarial reports and President Elect Latha Vanamali wrapped up splendidly with Vote of Thanks.
Ashok Singh, as MC, with lot of grace and subtlety prodded at the right time to speed up . With a pleasant stage presence, powerful voice and quick shaayaris and crisp comments – he took the event a notch higher.
From the District Team, besides DG Harjit Talwar accompanied by sweet Romi Talwar, and AG Shobha Iyer, we had esteemed office bearers Vikram Sona, Deepak Jiandani, PDGs Jayesh Kulkarni, Gopalrai Mandhania, accompanied by dear Shyama Mandhania, Raghunath Rajan, Ganesh Vishwanathan, Jhankar Ghadkari, Ramon Abrol, and Virendra Widge who graced the occasion.
Presence of my Co-Presidents Tejaswini Korde Rane, Sanjay Patel, Parul Shah, Siva Kumar, Rameshwari Kachru, Rakhee Sunil, and Rotarian friends Leena Shah, Rtn Namita K. and Rtn Rajendra Kewat , Aslam and Shahin Merchant Merchant bolstered our happiness.
My sister Lalitha Balakrishnan, my brother-in-law Balakrishnan Mahadevan, my nephew Vignesh Balakrishnan, my sambandhi Vasanthi Iyengar, my colleague Dilip Sayla, my neighbours and life long friends Vijayalakshmi Ramanan, Rekha Parikh, Pinky Shah and my dear dear son Dhiraj Deshpande and husband DrDeepak Deshpande , every one made the day so special with their presence and support.
Missed my daughters Swetha Iyengar, Suchitra Deshpande, son-in-law Vishal Iyengar, and sweet little Kabir and Rhea. I know their love gives me the strength to be what I am today.
The dinner spread, especially samosa chaat, and dal makhani received raving responses.
The hall mark of RCBP gatherings, Bollywood music, marked a musical end to the evening. Sudha Iyer's Sankarabharanam special was the sweet special closing note.
The women in green looked great and pleasing; our irrepressible energy and child-like rush for pics made Photo Phactories' guys smile ear-to- ear.
Thanks friends to each one of you who came, and with your zest and zeal made this an unforgettable experience!